"I Am Prepared To Consider Evidence"
Montague Rhodes James. 1862-1936
Montague Rhodes James was born in 1862 in
Goodnestone
Parsonage, Kent, where his father was the curate, and died in 1936. He developed a taste for old books from a precocious age and was fonder of reading dusty volumes in the library than playing with the other children. He studied at
Eton
and then at
King's College
, Cambridge, where he became assistant in Classical archaeology at the Fitzwilliam museum. He was elected a Fellow of King's after writing his dissertation
The Apocalypse of St. Peter
, and after that, he lectured in divinity, eventually becoming dean of the college in 1889. He was a distinguished medievalist and wrote a large amount of reviews, translations, monographs, articles and works on bibliography, palaeography, antiquarian issues, and often edited volumes for specialized bibliographical and historical societies. He was a brilliant linguist and biblical scholar, and he was exceptionally gifted, which, along with his unusually keen memory and hard work, enabled him to write many pioneering studies. His translation of the
Apocryphal New Testament
in 1924 was one of these studies. He was made provost of King's College in 1905 and was later the vice-chancellor of the university from 1913 to 1915. His research often took him abroad, and he visited Cyprus, Denmark, Bavaria, Austria and Sweden, where he set his story "Count Magnus", whom he based on the 17th century count Magnus Gabriel de la Gardie.
Although he was a great scholar in his day, he is now most remembered for his ghost stories. Fascinated by the supernatural, he was an admirer of the Irish mystery-writer John Sheridan LeFanu, whose ghost stories he edited. James's stories were usually first published in magazines such as the Cambridge Review, but some were written for special occasions. Wailing Well is one such story, composed for the gathering of the Eton College boy scouts in 1927. His life was spent in studying the past. Among other things, he catalogued the many manuscript collections in Cambridge, a task that took forty years to complete. He never married and never had any children. The university, Eton and his books were his life.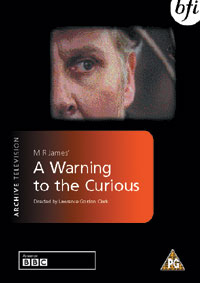 The Studies Of An Antiquary
In 1904 M.R.James was carrying out an inventory of the stained glass in the chapel of Ashridge Park, the property of Lord Brownlow. Noticing references to "Abbas Steinfedensis" on many of the panes, he formed the conjecture (incorrect, as it turned out) that all of the glass originated at Steinfeld, in the Eiffel District of Germany. In addition, he was inspired to write
The Treasure of Abbot Thomas.
In 1907, the story came to the attention of a monk at Steinfeld. This led to to a correspondence with James, and the eventual location of most of the long-missing stained glass (the Ashridge specimens are now in the Victoria and Albert Museum).
Kloster Steinfeld
now has its own site, where you can see the wonderful stained glass windows which inspired MRJ and (if you have a German dictionary handy) read the story of their rediscovery.


Episodes of
M.R. James
History
a great website on M.R. James
BBC TV ran a series of
adaptations of four
M.R. James stories
between
22 December 2004 and
Sunday 2 January 2005
the online newsletter on all things M.R. James
Other M.R. James
University of Cambridge
catalogued by MRJ
Click this link for
a translation of the
original Mishnic Tractate Middoth,
if you want to find out
why Dr Rant thought this
a safe place to hide his will!
Adobe Acrobat reader
is required to read this.
This page can also be found on our