Let The Ominous Thing......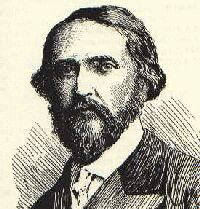 Joseph Sheridan Le Fanu (August 28, 1814 - February 7, 1873) was an Irish writer of short stories and novels concerning the strange and supernatural. His work is an early example of the genre of horror fiction.Sheridan Le Fanu was born in Dublin to a noble family. His grandmother Alice Sheridan Le Fanu and her brother, Richard Brinsley Sheridan (J. Sheridan Le Fanu's great-uncle), were both playwrights. His niece, Rhoda Broughton, would become a very successful novelist.Le Fanu studied law at Trinity College in Dublin, where he was elected Auditor of the Historical Society, and passed the bar 1839. But Le Fanu did not take up the legal profession, instead becoming a journalist. Thenceforth until his death he published stories. From 1861--1869, he edited Dublin University Magazine, which also published many of his works in serial form. He owned several periodicals (including the Dublin University Magazine and the Dublin Evening Mail) in his late life. He died in his native Dublin on February 7, 1873
"Upon mature consideration, I do not think that there are better ghost stories anywhere than the best of Le Fanu's"
- M.R. James on J.S. LeFanu

The Authors
1845-1925
1837-1915
1840-1920
niece of J.S. le Fanu
1854-1909
1812-1870
1859-1930
1831-1892
Pseudonym of
Violet Paget
1865-1935
1814-1873
1868-1947
1873-1961
1866-1946



The Tales
Vernon Lee
Amelia B. Edwards
Rhoda Broughton
Marie Belloc Lowndes
J.S. Le Fanu
Louisa Baldwin
J.S. Le Fanu
Amelia B. Edwards
Oliver Onions
Mary Elizabeth Braddon
H.G. Wells
H.G. Wells
Charles Dickens
Sir Arthur Conan Doyle
Marie Belloc Lowndes
or Oke of Okehurst
Vernon Lee
Louisa Baldwin
Sie Arthur Conan Doyle
F. Marion Crawford
Mary Elizabeth Braddon
Charles Dickens
F. Marion Crawford
Rhoda Broughton